We went to our State's Capitol last night for the awards ceremony. In attendance were the NC Wildlife Commissioner, the NC Wildlife Commissions Director of Handicapped Services as well as many members of the NC Handicapped Sportsmen INC. A beautiful plaque was presented to Tyler by the President of the NCHS Ed Mays (right) and the NC Wildlife Commission's Executive Director Fred Harris (far left).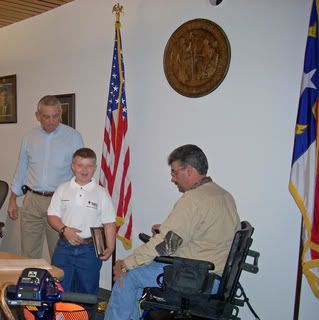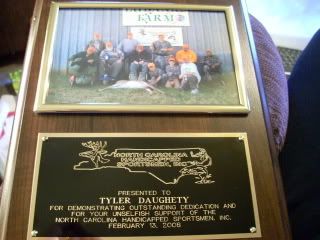 It was a very emotional moment for Tina and I as we really felt the full impact that Tyler has had on both organizations. Following the plaque presentation, Tyler and I were invited to attend a fully guided turkey hunt this spring and a fully guided deer hunt in November. God has blessed me with a wonderful family, including my parents as well as Tina's parents who instilled the same values in us that we have passed on to our children. The pictures are terrible but that is for another post.
I really can't think of anyone else that I'd rather share this special moment with that my friend here on the excal forum.
God Bless,