Thought I would post these old pics,,,,,,,,,,,,got 2 in 8 days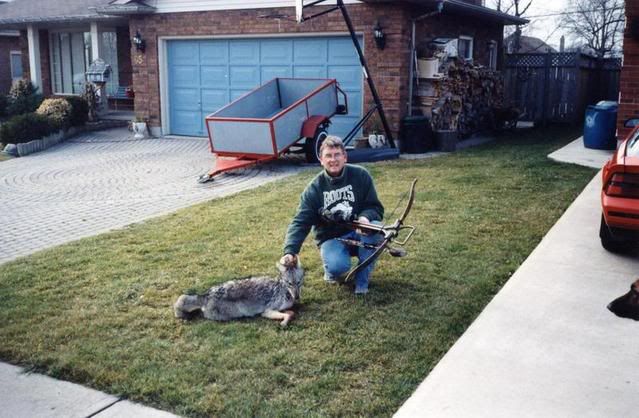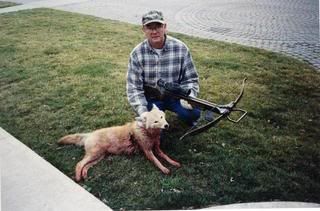 ---
Posts: 542
Joined: Wed Mar 16, 2011 6:32 pm
Location: Pefferlaw, Ontario
Hello Coyhunter. I am interested in hunting coyotes with archery equipment. If you have any suggestions regarding setup, use of scents and baits, calling, etc., I would appreciate hearing from you.

Regards, Erik.
---
X2
I'm interested as well.
My hunting spot is over-run with these vermin.
This lack of snow may help me.
"Death leaves a heartache no one can heal. Love leaves a memory no one can steal"
---
I got both these coyotes while deer hunting,,,,,,,,,they were eating pieces of pumpkin I had out for the deer..............I have got 8 coyotes while deer hunting with my excal
---
One thing I learned .......they don,t look up at all.........not like deer that bust you in the stand once in a while
---
nice post-*-*-**-
Test king http://www.testking.co.uk/
Training exam/646-230 http://www.testking.co.uk/exam/646-230.html
Exams exam/650-196 http://www.testking.co.uk/exam/650-196.html
Material exam/70-573 http://www.testking.co.uk/exam/70-573.html
---
.

Oldies are definitely goodies. Thank you for sharing.

.
---
That second one has a nice color to it, good job. Ive nailed a few but with a rifle, my hunting spot had lots of dogs but since the deer herd is almost gone the yotes have moved away, i did not see one track two weeks ago when i went out.

As for tips, I wear a white suit to blend into the snow and do my best not to move when i sit and call. If the snow is deep and its been a cold winter the dogs are hungry and come running with a distress call. The first time i ever called i had one run full out right at me, he stopped and turned when i yelled at him only a few feet in front of me lol i was looking up paying attention to the crows that came to my call then heard huffin and puffing and looked down and there she was runnin right at me.
I tried a mojo critter two weeks ago and had two fox come to my calls and they ran right at my decoy, so seems those decoys work great also, so now i got calls and a decoy but no yotes lol, go figure
Exocet 200
S5 System
Shadowzone
---
I ALSO HUNT THEM WITH hounds...........my 2 buddies have 7 hounds..........use a 22.250 for these shots............got a couple hundred in last 20 years
---
Posts: 250
Joined: Tue May 01, 2012 9:28 pm
Location: Swamps of Michigan
Shoot every last one of them.
Nice pics, they sure help memories last longer.
MICHIGAN MEAT HUNTER "Shooting Tomorrows Trophies Today"
Proud member of the Michigan Crossbow Federation!
---
Great job thinning them out
[img]http://i4.photobucket.com/albums/y113/Kevaid/DEERTURKEY.jpg[/img]
Wildlife Management & Reduction Specialist
---