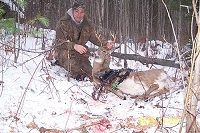 My first buck with the Micro335. Came in from 40 yards to my right and made a rub on some saplings, then came right in to my shooting window at 22 yards.
I only keep one window open on the ground blind because of the swirling winds in this area.
The quill tipped with a 100 grain razor cut trick flew through like butter .
This was the fifth deer I saw this year and the only buck in 30 days hunting.
I 'm getting 345 FPS with the 350 grain arrow. Love my Micro, so compact and fits so dang nice. I did put a 2x7 Redfield Revenge scope on it.